Sunday School: 9:30 AM
Corner of Latham & South Florida Streets
52. S. Florida St. Buckhannon, WV 26201
FAX: 304.460.2553
Click the youtube LINK below to take a look at First Church:
http://www.youtube.com/watch?v=xiQ8fz-Ig08
__________________________________
Sunday Morning Worship Broadcast LIVE
during the months of
November, December, January
AND
May, June and July
10:45 AM on WBUC 1460 AM
__________________________
_
________________________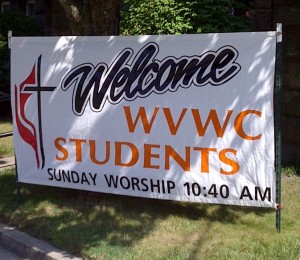 FIRST UNITED METHODIST CHURCH WELCOMES
WEST VIRGINIA WESLEYAN STUDENTS!
Open invitation to the College Student & Young Adult Sunday School class launches a new study this Sunday about Grace. As always, there'll be plenty of breakfast for those who can join us at 9:30 in the kitchen.


Welcome to First United Methodist Church of Buckhannon!
Everyone is welcome at First United Methodist Church…so come in and make yourself at home!
First UMC is a warm and welcoming congregation where you can meet people, celebrate life, grow deeper and stronger in faith, and recreate your energy into action that transforms the world.
You're invited to Sunday Morning Worship, sing with the Choir, try a Sunday School Class, share in the children and youth programming, connect with the United Methodist Women or Men, join the conversation in a mid-week study group, or jump right in and help care for people in need in the neighborhood and world.

Worship or work with the community of faith…
and discover the foundation for a rich life full of meaning.
Love, Grow
and Serve
First United Methodist Church of Buckhannon
Celebrate joyful living!

Holy Communion
First Sunday of
Every Month.