EVENTS at First UMC
…………………………………………………………………………………….
+ Greeters for February 24th are Ron and Sue Pugh Acolytes are Ella Whitehair and Rebekah Wilkerson February Ushers are Junior McGee, SarahJean McGee, David Petrosky, Ron Pugh and David Rowan
+ UMWomen needs cookies, pies and cakes for Kairos Prison Ministry Our goal is to provide 100 dozen cookies plus some cakes and pies. Please sign up in Linger Hall and pick up a copy of the recipes and guidelines for cookies. Bring baked goods to the FUMC kitchen marked Kairos by March 10.
+ 90th Birthday FUMC has been invited to send cards to Leoma Linger Straight for her 90th birthday on February 27. Leoma is Dr. Ross Linger's daughter and she continues to remember FUMC with fond memories. Address for cards: 78 Limestone Blvd. Chillicothe, OH 45601
+ Pancake Dinner – Save the Date The young adult group will again host the annual Pancake & Sausage Dinner on Shrove Tuesday – March 5 from 5 to 7 pm. All proceeds benefit the Youth Fund for their trip to Youth 2019 in July.
+ Ash Wednesday Service March 6 at 7 pm at Chapel Hill UMC with Rev. Barry Moll preaching
+ Lunch Bunch You are invited to join the Lunch Bunch and enjoy food and fellowship at Wendy's every Thursday at 12 noon. See Sarah Carr for more info.
+ Item of the Month for the Parish House: CEREAL such as boxed cereal and oatmeal. Please leave items in Linger Hall on Sundays or at the church office.
+ Pampering Reception for Castos We will host a reception following worship on Sunday, March 24 for Deidra, Isaac and Sylvia Casto as they prepare to welcome Baby Boy Casto in April. Please bring a package of diapers and/or wipes for the Castos, and join us for the reception.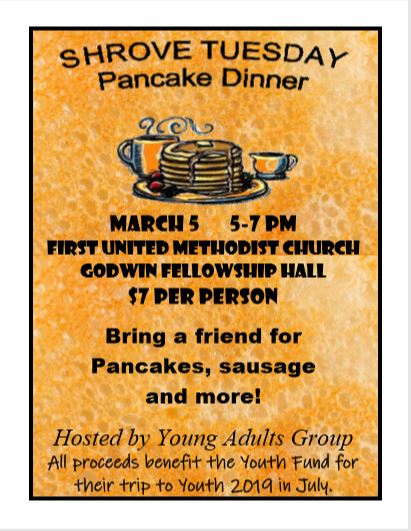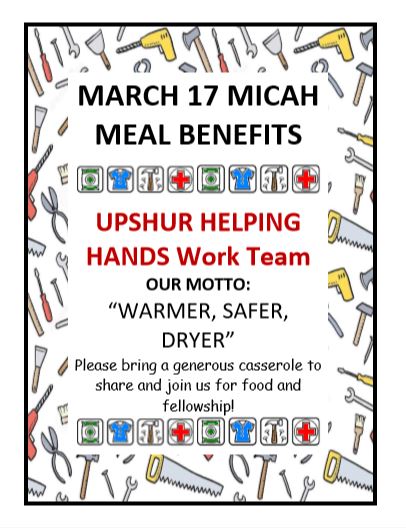 …………………………………………………………………………………….
…………………………………………………………………………………….
…………………………………………………………………………………….
+ FUMC Directory The Witness Committee has made arrangements with Dewayne and Ginnie Lowther for a new Directory. Please sign up on the bulletin board in Linger Hall for a time to have you/your family's photo taken on either December 16 or January 27. Up to four families/individuals can sign-up per each 15 minute time slot. The photographs being taken are at no cost, and each family/individual will receive a gift of a free 5×7 of the photograph as well as the rights to the photograph to make their own copies as they please, etc. See Amy (McGrew) Hayslette for more information or questions.
…………………………………………………………………………………….